Here at The Kettle Shed we had the hard(ish) task of holding a tea party / tea tasting 'do'…it's a difficult job but someone had to do it…
A few of us got together and agreed we needed to taste some delightful combinations of tea and alcoholic beverages. We decided it was the right thing to do as some of our customers make tea party cocktails and we didn't know what they tasted like! As ambassadors for fine tea, we saw it as our duty to spend an evening drinking tea and alcohol, and here are the results of said evening!
The cocktails we decided to try were bourbon whiskey and black tea, followed by hibiscus flower cocktails, which were a complete delight. Just in case you fancy tasting these special drinks, you will find the recipes below:
Bourbon Whiskey and Black Tea
If you can find a nice rich whiskey it will help to complement the cocktail nicely and add that subtle deep taste you'll love.
Ingredients:
2 oranges
1 litre of water
8 black teabags, or 8 teaspoons of loose black tea
1 bunch of fresh mint with the ends trimmed
256 grams of granulated sugar
8 fluid ounces of water
16 fluid ounces of bourbon or scotch whiskey
Ice
8 sprigs of mint to garnish and add that special touch
Please note: once you have made the tea, ensure it is refrigerated for about 3 hours
Instructions
1. Remove the zest from the oranges using a vegetable peeler. Try to peel off wide strips and avoid peeling of the pith. Put half of the zest to one side, and place the rest in an airtight container in the fridge.
2. Bring the water to the boil, and then remove it from the heat. Add the tea bags or loose tea, and the orange zest you set aside. Let the orange steep for about five minutes before pouring into a 3.5 litre heatproof container using a strainer and discard any solids. Place the tea in the fridge and leave for about three hours.
3. Place the mint syrup and the sugar in a saucepan and stir. Simmer over a medium high heat. Reduce the heat to medium low, and stir occasionally. You will need the sugar to dissolve and the syrup to thicken slightly.
4. Remove the syrup from the heat and let it cool to room temperature, this should take about an hour. Then strain the syrup and discard any solids, cover and place in the fridge.
To serve
1. When it's time to serve up this delicious drink, stir in the whiskey and add about half of the mint syrup. Add more as needed. Fill approximately 8 highball glasses with the ice and add a few strips of the orange zest you kept in the fridge.
2. Pour the tea mixture over the ice and top it off with a sprig of mint. Serve
As you can see the whiskey and black tea cocktail started to go down very well, good job we made another batch (or two!)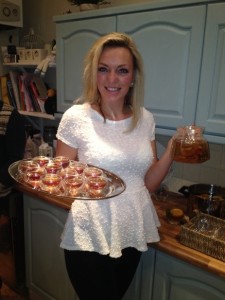 Hibiscus flower cocktails
Next we moved on to the wonderful hibiscus flower cocktails which were a complete joy to make and drink. This cocktail was an interesting change from the previous one and the sweet flavour was loved just a little too much by some!
As you can see from the picture, this cocktail is a very pretty and delicate one. It's perfect for those long hot summer days, or those times you simply want to treat yourself to something special.
Instructions per glass
1 wild hibiscus flower
3-4 drops of syrup from the jar of hibiscus flowers
A bottle of champagne or Prosecco
1. Place a hibiscus flower into the bottom of your glass or flute, and fill the glass with champagne or Prosecco.
2. Watch the flower open up as your drink of choice starts to bubble.
3. Add a few drops of syrup to sweeten if you wish.
With a slight raspberry flavour, this cocktail is delicious and is sure to be loved by everyone.