The Berkshire Hotel on Oxford Street W1C 1BY has recently started afternoon tea on the first floor. So I thought id check it out…
First of all I have to comment on how helpful the staff were, however good an afternoon tea is going to be, it could of easily been overshadowed by poor customer service however it was great and I was well taken care of.
The first thing I noticed was the tasteful decor and china that was presented on all the tables. One of my personal favourites of the afternoon tea experience was their China brand, it was the Miss Darcy range made by "Bombay Duck" it is real china without the dated vintage look and goes perfect for their high end look. Our own blend of "Darcy's Delights" would fit in perfectly…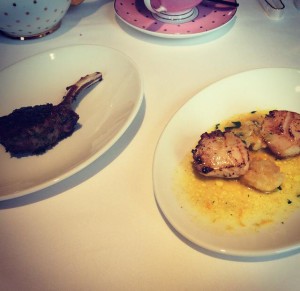 The Menu is delightful; you get the choice of two dishes from each section. I had a hot a dish of spiced scallops and a mint lamb cutlet, which were cooked to perfection, what a surprising change for an afternoon menu. In my view it takes it up the next level that makes it a high end afternoon tea establishment.
I then went on to have chicken Caesar, rosemary focaccia with rare venison, gin and tonic relish on rye bread, absolutely delicious. Followed by valrhona chocolate and pecan scones yummy and lastly fresh Strawberry tart with cream and raspberry prosecco jelly exquisite. I was also given a complementary glass of prosecco, which everyone gets to the end of the month on June…
I ordered an oolong to start with, and when my food arrived I had a rooibos tiramisu blend that were both lovely.
Overall, it was a great experience and if you are either stopping off from a shopping trip on Oxford Street or staying over at the hotel, it is the perfect way to have a break and have a lovely relaxed treat with a cup of tea!
For more information on the hotel click here.
Our Social Media Pages:
Facebook: www.facebook.com/thekettleshed 
Twitter: www.twitter.com/thekettleshed 
Google+: The Kettle Shed Tea Company